HONDA CR-V 5 (NEW PARTS, 2021, APR)
CONTROL ARM, CH-15E060L, CH-15E060R, LATERAL LINK, CH-15F145L, CH-15F145R (ADJ), CH-15F146 (ADJ), STARBILIZAR LINK, CH-15H330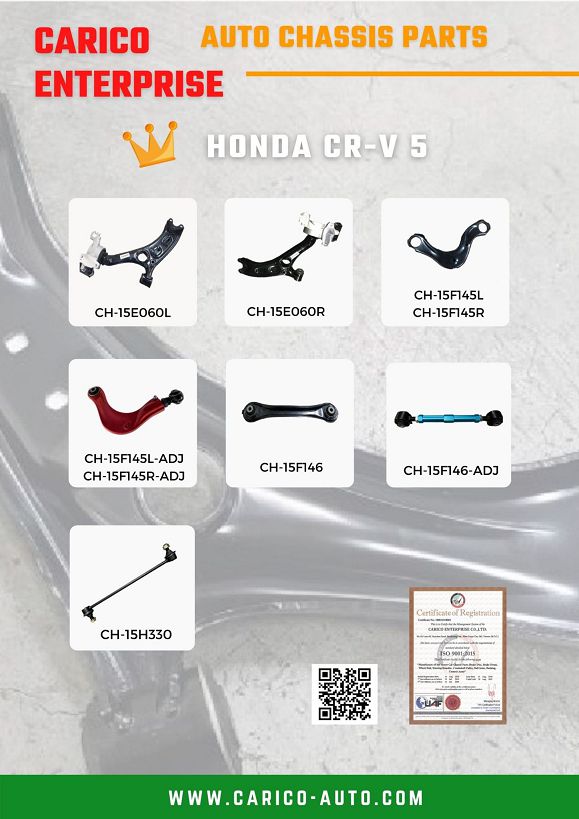 HONDA CR-V 5
The Honda CR-V is a SUV manufactured by Japanese automaker Honda since 1995 and introduced in the North American market in 1997. It uses the Honda Civic platform with an SUV body design. The CR-V is Honda's mid-range utility vehicle, slotting between the smaller Honda HR-V and the larger North American market Honda Pilot. Honda states "CR-V" stands for "Comfortable Runabout Vehicle," while the term "Compact Recreational Vehicle" is used in a British car review article that was republished by Honda.
Honda began producing the CR-V in Sayama, Japan, and Swindon, United Kingdom, for worldwide markets, adding North American manufacturing sites in East Liberty, Ohio, United States, in 2007; El Salto, Jalisco, Mexico, in late 2007 (ended in early 2017); Alliston, Ontario, Canada, in 2012; and Greensburg, Indiana, United States, in February 2017. The CR-V is also produced in Wuhan (Hubei province) for the Chinese market by the Dongfeng Honda Automobile Company, a joint venture with Dongfeng Motor Corporation.
More Information
#CH-15E060L, CH-15E060R

#CH-15F145L, CH-15F145R (ADJ)

#CH-15F146 (ADJ)

#CH-15H330
This site uses cookies to improve your browsing experience. we'll assume you're OK to continue. If you want to read more about this, please click on
Use & Disclaimer
thank you.
I Agree