MAZDA 3 Generation-4, CX-30 (NEW PARTS, 2021, MAR)
CONTROL ARM, CH-24E043L,CH-24E043R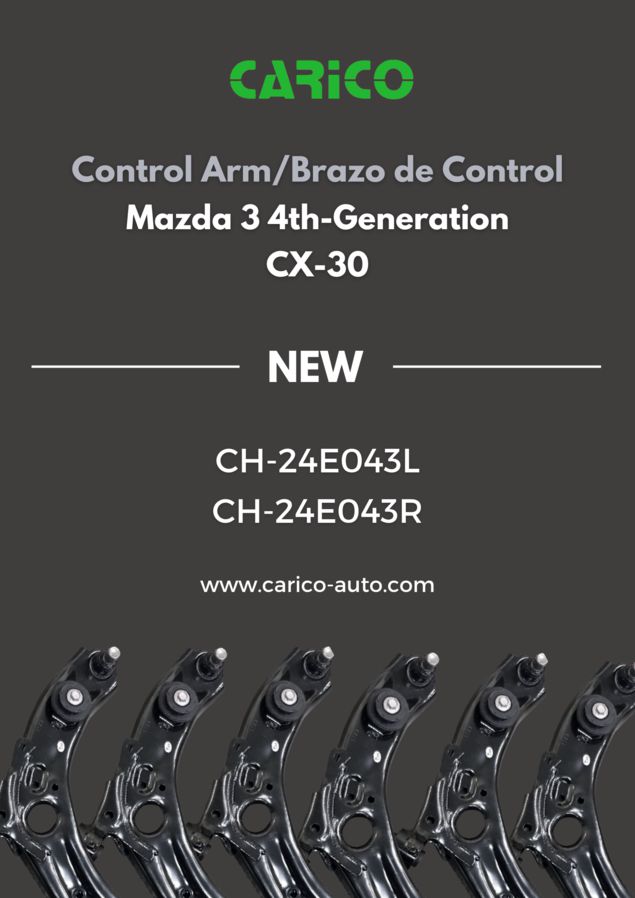 #CH-24E043L
#CH-24E043R
MAZDA3 Generation-4
The Mazda3 (known as the Mazda Axela in Japan (first three generations), a combination of "accelerate" and "excellent") is a compact car manufactured in Japan by Mazda. It was introduced in 2003 as a 2004 model, replacing the Familia/323/Protegé in the C-segment. A performance-oriented version of the Mazda3 was marketed as the Mazdaspeed3 in North America, Axela in Japan, and the Mazda 3 MPS in Europe.
The Mazda3 became Mazda's fastest-selling vehicle in January 2019, with cumulative sales of over 6 million units.
CX-30
The Mazda CX-30 is a subcompact crossover SUV produced by Mazda. Based on the fourth generation Mazda3, it debuted at the 2019 Geneva Motor Show, to slot in between the CX-3 and the CX-5. It went on sale in Japan on 24 October 2019.
More Information
This site uses cookies to improve your browsing experience. we'll assume you're OK to continue. If you want to read more about this, please click on
Use & Disclaimer
thank you.
I Agree